HedgeServ has a culture of innovation, excellence, and continuous improvement which has continued to evolve through our employees. Our corporate values create a sense of shared purpose and belonging as we work together to achieve the vision and mission of HedgeServ. We experience successful results through demonstrating the below values and behaviors which are at the core of how we communicate with employees and clients.
HedgeServ's mission is to define the benchmark and disrupt the global standards for fund administration by continuously advancing and expanding our service offering. We partner with our clients to create solutions that add value so they can concentrate on investment strategies and growth. Our entrepreneurial culture powered by our global team of experts and proprietary technology are our key differentiators.
HedgeServ's vision is to continue to be the industry's innovative fund administrator providing expert client service teams, advanced technology and market leading solutions for our clients while continuously developing our dynamic and diverse global workforce and service offering.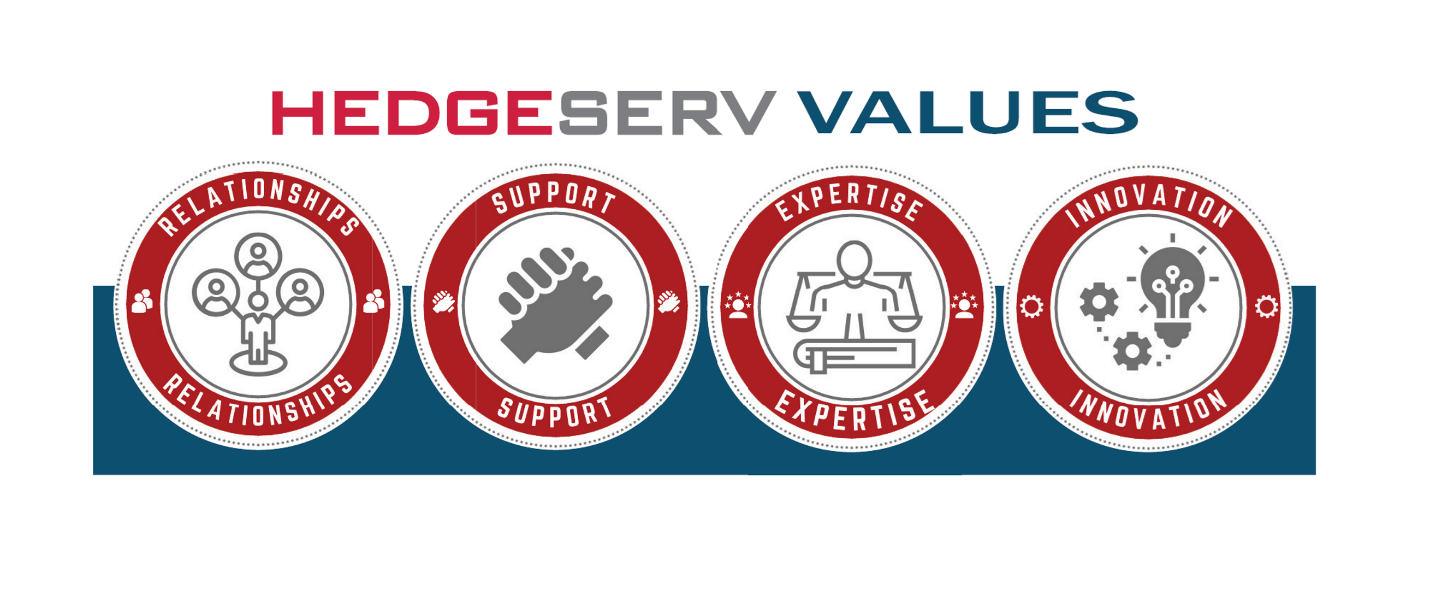 HedgeServ's core values are the pillars of our corporate culture. They guide us in our daily actions and interactions by defining what is important to HedgeServ and our employees. Competencies are the skills that we must display and develop to carry out our daily tasks. They define how we do things.
RELATIONSHIPS – We work in partnership with each other and our clients; collaboration is at the core of what we do.
We work collaboratively, focusing on end-to-end ownership and autonomy in our processes.
We share knowledge across our teams and offices to gain expert and diverse views.
We develop long-term relationships through investment and commitment to our employees and clients.
We communicate in personal, inviting, and authentic ways whether face-to-face or virtually.
SUPPORT – We empower and trust employees so they can realize their full potential on an individual and organizational level. We leverage our global reach for positive local impacts.
We focus on employee health and well-being.
We are empathetic and committed to diversity and inclusion.
We listen to each other and think about what we want to say and then respond.
We embrace corporate social responsibility and our ability to impact and enrichen the lives of our team, their families, our clients, and the world around us.
INNOVATION – We embrace an entrepreneurial spirit and growth mindset where change is a positive dynamic.
We confidently challenge the status quo with respect and positive intent.
We offer a leading-edge suite of proprietary technology applications.
We rapidly adapt to current information, changing conditions, or unexpected obstacles.
We act with vision, agility, and resilience.
We listen to each other's ideas and value diverse perspectives.
EXPERTISE – We are the most experienced team of industry experts. We share our knowledge with each other to make us stronger; we share our knowledge with our clients to make them stronger. There is no question we can't answer, nor any problem we can't solve.
We cultivate a productive and agile environment which allows us to anticipate our clients' needs and consistently deliver solutions in real time.
We embrace an entrepreneurial spirit while leveraging the resources of a global organization.
We scale our resources to meet the requirements of our clients.
We foster continuous training and professional development.
Diversity, Equity, and Inclusion
At HedgeServ, our people are at the core of everything we do. We aspire to grow and challenge the status quo and it is our high calibre talent that drives our progress. We continue to look for opportunities to ensure that talent is diverse and that we have an inclusive working environment for all.
HedgeServ's diversity and inclusion efforts are designed so that we can all work together in a place where our contributions are valued, and our voices heard. HedgeServ aims to ensure everyone is valued and treated with respect.
Gender Pay Gap Reporting (Ireland)
HedgeServ is committed to attracting and hiring the right talent to ensure our clients' and firm's success.
The Gender Pay Gap Information Act 2021 introduced the legislative basis for gender pay gap reporting in Ireland. The Act requires organizations with more than 250 employees to report on their hourly gender pay gap across a range of metrics. HedgeServ Ireland's Gender Pay Report can be found here.
Our commitment to diversity and gender inclusion is demonstrated through the programs below which are an integral part of HedgeServ's culture. We recognize the need to further develop these and other programs to proactively achieve greater gender balance and inclusivity at all levels across the organization. Our corporate values create a sense of shared purpose and belonging for all HedgeServ employees.
Mentorship Program: Our Mentorship Program has proven very successful, with employees having the opportunity to be mentored by our senior leaders within HedgeServ. They share their knowledge, skills, and experience with more junior employees to develop strong career paths and foster a culture of development and support. This is a voluntary program that is open to all HedgeServ employees.
We will enhance this program further by proactively offering employees returning to work from extended periods of leave a dedicated mentor.
Innovation Council: As an innovative organization HedgeServ embraces new ideas and initiatives that can positively impact our organization. Recognizing the key role our employees can play in this process we have established an innovation council, a framework for employees to submit and present their ideas to the leadership team. All ideas are welcomed and encouraged. This initiative gives us the opportunity to implement innovative initiatives which can support an inclusive and diverse workforce. We will actively focus on suggested initiatives which will support us in improving our diversity and inclusion efforts within HedgeServ.
Hybrid Working Model: We offer our employees flexibility through our hybrid working model. Employees can elect their preferred working model i.e. to work from home or from the office or a combination of both. This gives greater work life balance for our employees and further promotes diversity within our workforce. We will continue to offer this model to our employees as research demonstrates this can help shrink the gender pay gap.
Learning & Development: We have a comprehensive menu of L&D programs for our employees which supports a positive, collaborative, and inclusive working environment. We have created a robust catalogue of learning supports including, instructor and SME led courses and workshops, on demand and micro learning modules, and other resources, to complement our industry leading training programs.
Employees complete mandatory online training in the areas of diversity and inclusion and unconscious bias on an ongoing basis.
In addition, we have recently upskilled a team of internal facilitators who have been trained to successfully deliver Diversity and Inclusion workshops. These workshops will enhance the training already in place and create open discussions on the challenges and biases in place which can potentially impact gender inclusion.
All interviewers undergo interview skills training before commencing the interviewing to ensure an inclusive process. We will enhance our interview skills training further with a more in-depth focus on unconscious bias and diversity and inclusion.
Competency Framework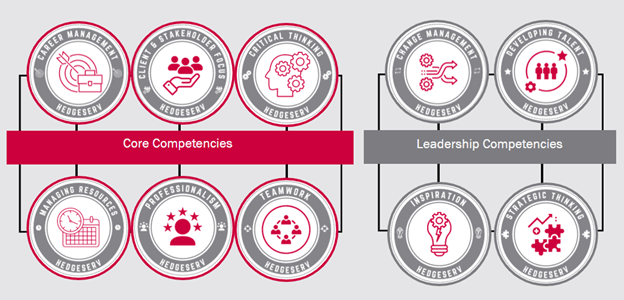 HedgeServ has recently introduced a global Competency Framework, creating standard behaviors and expectations for all levels across HedgeServ, and providing transparency and expectations for every role. This framework is supported by our comprehensive L&D programs and will enhance our promotion and career development processes with an objective set of standards creating a structured framework to consistently deliver fairness and equity and build a pipeline of senior candidates.